The program and all the information to be able to attend the concerts of the Time in Jazz Festival, from 7 to 16 August 2022


35 years of music in Sardinia and beyond
The Festival Internazionale Time in Jazz
is the most important Jazz event in Sardinia and one of the most important in Italy. In fact, it has been active for 35 years, every year it hosts numerous artists of national and international fame and tens of thousands of spectators in the many events that take place in Berchidda and other countries in the north east of Sardinia.
It is managed by the Time in Jazz Cultural Association which organizes cultural events that take place in Sardinia and beyond. The President and Artistic Director is Paolo Fresu, universally recognized as one of the protagonists of the international jazz scene.
The theme of the 35th edition of Time in Jazz is Rainbow, peace and freedom
Perhaps never as at this moment is a reflection on the issues of peace and freedom necessary and opportune. But also the protection of diversity seen as a wealth and not as a danger.
This edition of Time in Jazz is dedicated to this, which once again does not shy away from confrontation with current events, but rather discusses and deepens the dynamics with its formula that includes musical events and more.
When and where Time in jazz 2022 takes place
The festival takes place from 7 to 16 August 2022 in the somewhat itinerant form of this event.
Berchidda, which is literally "occupied" by dozens of events that take place exploiting every space of this beautiful town of Monte Acuto
But also in Arzachena, Banari, Bortigiadas, Buddusò, Budoni, Cheremule, Loiri Porto San Paolo, Luogosanto, Mores, Oschiri, Porto Rotondo, Puntaldia, San Teodoro, Tempio and Tula will have a musical event within this initiate.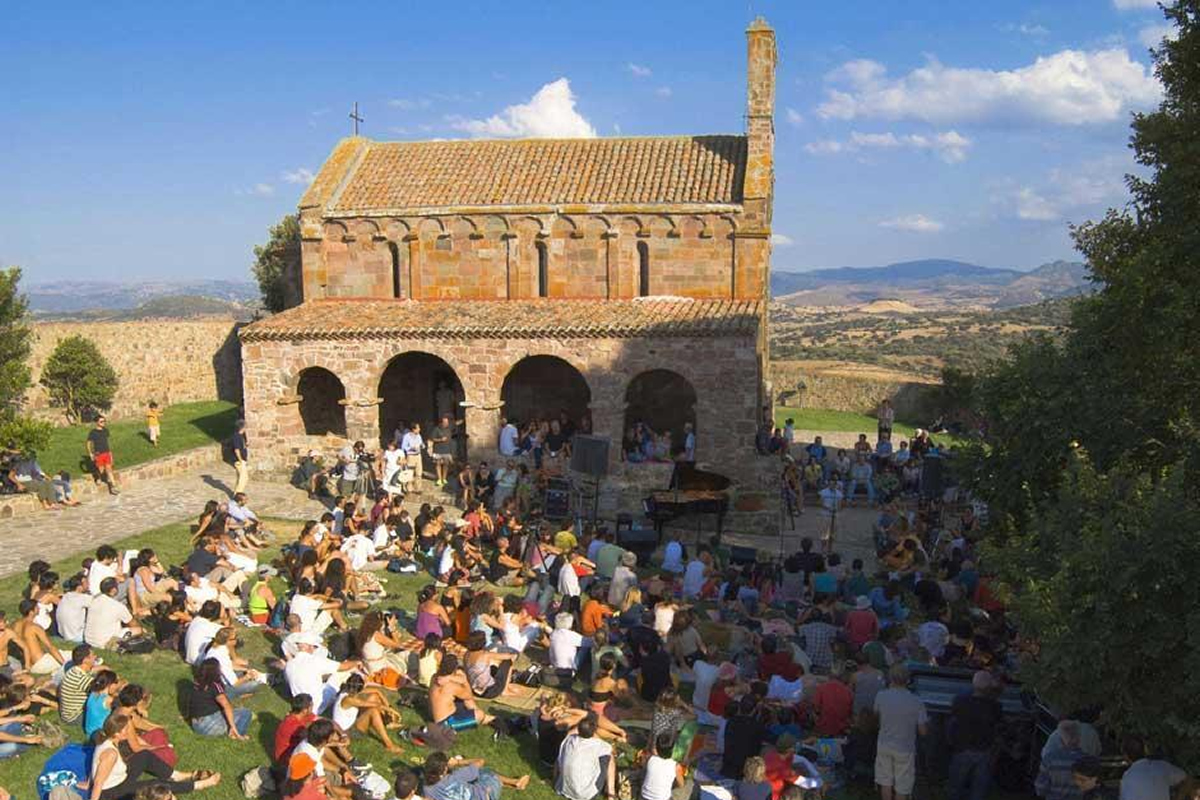 Time in Jazz, the time for music
From 8 to 16 August, more than 20 concerts will be held in Berchidda and 14 towns in North East Sardinia.
Jazzmen and other musicians of international standing  (see here the program) will be the protagonists of memorable performances, sometimes in unusual spaces such as a ferry or rich in historical references such as the castle of Baldu of Luogosanto, of which we have already spoken of as one of the most characteristic places in Gallura.
And then wonderful beaches like Porto Taverna or characteristic rocks such as Li Conchi in Arzachena, the many small but beautiful Romanesque churches of which this Territory is rich.
A full calendar of events that can really satisfy fans not only of Jazz.
Time To Read, the time for reading
The usual appointment with literature also this year has a rich agenda of meetings with books and their authors.
This will happen in Berchidda
– in the spaces of Sa Casara for the books by Nichi Vendola, Grazia Versani, Roberto Cotroneo and Caterina Bellandi;
– to the church of San Michele for the work of Attilio Mastino;
– at the wine museum for Gianfranco Mura's Time in Jazz Diary 2021 publishing project.
Time To Children, time for future generations
This particular and demanding initiative from 10 to 15 August occupies leading artists, including Paolo Fresu himself, in a large series of musical, artistic and creative moments dedicated to the youngest. Involving and necessarily interactive, these moments of play and not only capture the attention and curiosity of new musicians, writers, actors.
If you are on vacation with your children, don't miss out on the quality of the entertainment offer.
How to get tickets and more information about Time in Jazz 2022
Time in Jazz offers the vast majority of concerts for free.
The only events accessible with a paid ticket will be the event in L'Agnata (Tribute to Fabrizio de André with Tosca) and the concerts scheduled on the stage in Piazza del Popolo in Berchidda. The presale of these events is on Vivaticket.
For further information, please contact the secretariat at +393203874963 or alternatively by email info@timeinjazz.it.
Time in Jazz is a multifaceted and complete review. There is a lot of music, proposed in a varied but always intelligent and engaging way in suggestive locations, but there is also and perhaps above all culture in all its forms. Of course, music is predominant, but also literature, photography and cinema And then debates, workshops and initiatives for the little ones, shows and exhibitions. In our opinion really something not to be missed.
So why not take advantage of ours Hotel Felix Olbia oppure il  nostro Hotel Residence Porto San Paolo?They are respectively 30 and 40 minutes away by car from Berchidda and can be a comfortable and intelligent solution to combine a traditional beach holiday with a top-notch cultural experience.
We are waiting for you!