Exploring Sardinia's first adventure park built entirely on rocky terrain. In Arzachena hiking, via ferrata and zip lines – thrills are guaranteed at La Contea di Rena.
A perfect natural setting that has nothing to envy the world's best-known hiking and climbing destinations, combined with tenacity, enthusiasm and also love. These are the ingredients of one of the most attractive, magical and exciting places in Sardinia, and it is located in Gallura.
This is La Contea di Rena, the Island's first adventure park built entirely on rocky terrain. Just three km from Arzachena, Gallura's second biggest town after Olbia, it is set in a landscape of natural beauty featuring the granite rocks so typical of this part of Sardinia, olives, Mediterranean scrub and the mistral wind.
Here Fabio Viglioli and Elisa Asara have created a new destination for tourists, to the delight of the many hiking and via ferrata enthusiasts who choose the Island for their holidays.
Nature and excitement
A place for lovers of nature and relaxing walks, but also for those looking for an adrenaline rush in total safety. There's something for everyone, also for local, organic produce enthusiasts or honey seekers.
Fabio and Elisa's story began amid abseiling and the hiking trails around Sardinia. They met, fell in love and began to dream of transforming their passion into their work. This is where the idea for La Contea di Rena project came from, an agricultural farm and adventure park built on Fabio's family land in a stunning natural setting on the road from Arzachena to the salt pans of Palau – on the northernmost point of the Island, opposite La Maddalena Archipelago – flanked by tafoni (cave-like features sculpted in granite rocks by erosion).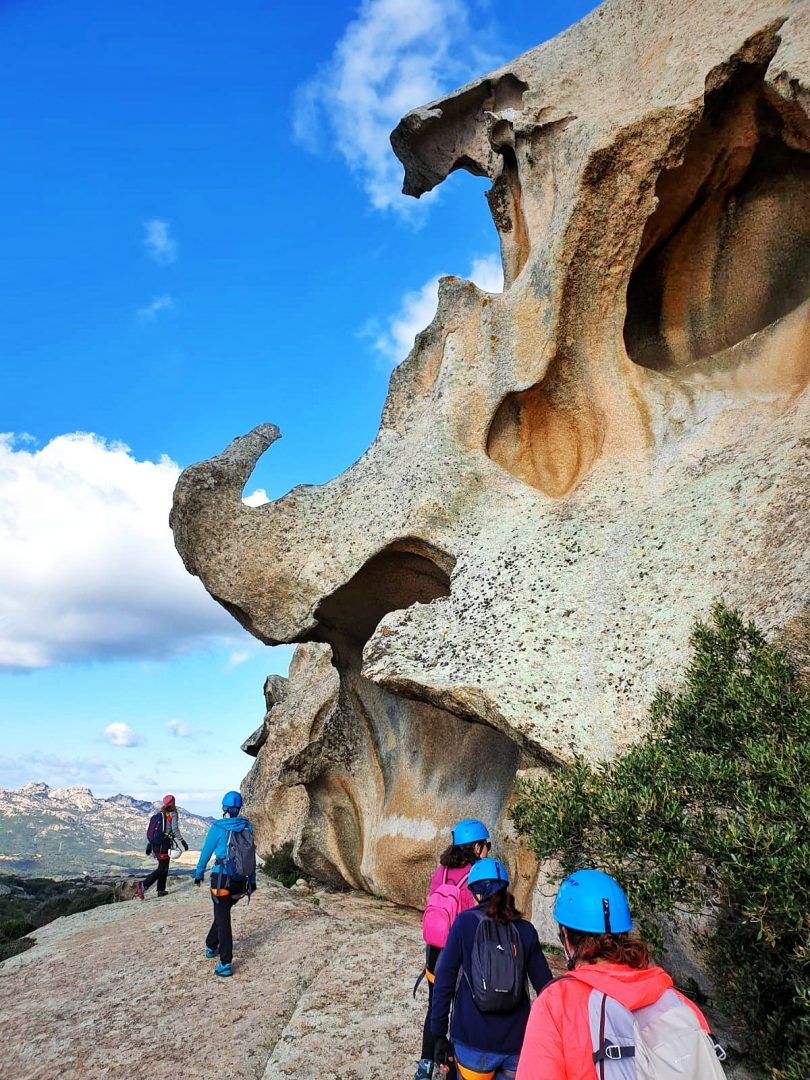 Adventure and hiking in Arzachena
Ingredients for adventure include a via ferrata (a mountain route equipped with steel cables, ladders, and other fixed anchors), a 'Tibetan-style' suspension bridge and two ziplines. All of this suspended and bolted among granite rocks with strange and fascinating shapes, and providing breathtaking views worthy of the most fanatical Instagrammers, who even wanted to organize a get together here.
One of the biggest attractions for thrill-seekers are the ziplines, the second having been inaugurated without fuss during the period of restrictions due to Covid.
You can take off and zip down the steel cable for 100 metres in total safety. At the very top of La Contea is an enormous rock topped by a small cross. The two and a half kilometres of hiking trails are low difficulty and well-signposted with stone figures, wooden signs and/or red dots on rocks.
Natural caves, yoga and meditation
The trails provide magical moment as they cross between the majestic rocks of Monte Tundu and the tafoni, natural cavities in granite caused by erosion. The word is originally Corsican, but in Gallura dialect they are called "conchi" La Contea is home to one of the biggest caves of this type in the area, the 18 metres high "Conca di Li Colbi (Crows' Cave).
Sunsets are breathtaking from up there, and Fabio and Elisa had the brilliant idea of sharing these natural wonders with their guests by setting up a wooden platform suitable for practicing yoga and meditation at the foot of the conca.
Everything at La Contea revolves around nature and man's relationship with his surroundings.